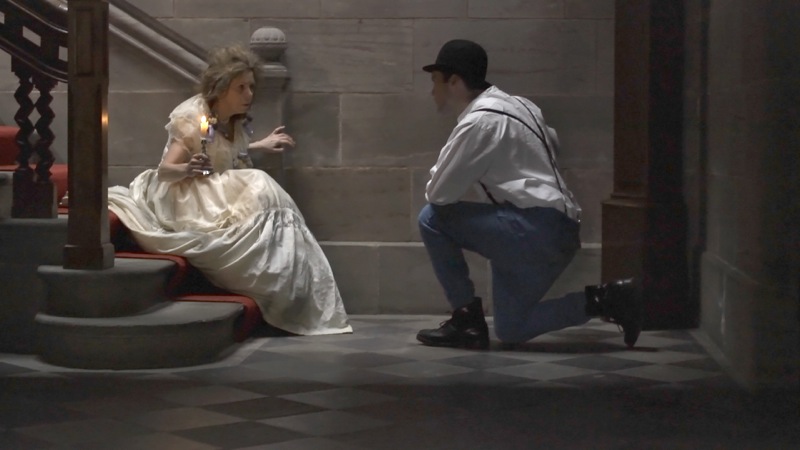 Live Visuals, Leonardo Electronic Almanac, Volume 19 Issue 3
ISBN: 978-1-906897-22-2
ISSN: 1071-4391
Volume Editors: Lanfranco Aceti, Steve Gibson and Stefan Müller Arisona
Editor: Ozden Sahin
A 'Real Time Image Conductor' Or A Kind Of Cinema?: Towards Live Visual Effects
by Peter Richardson
In this paper I describe a project that investigated methods for the incorporation of filmic visual effects (VFX) into artworks and performed environments. VFX are the computer-generated processes used in the film industry for manipulating live action and animated elements.
Traditionally moving image visuals in a performative / gallery / club context have been experienced as playback mediums, in which material is fixed in time and played from beginning to end. Real-time visuals require the intervention of a performer or a user to 'cut up' images live.
Since 2005 [1] a number of film makers have moved away from narrative cinema towards 'live cinema': remixing their films for audiences as a live performed experience. This raises interesting possibilities to extend the genre within a performative art based approach.
Few filmmakers or VJs have incorporated 'live' visual effects as part of this cinematic experience. It is the tension between remixing and creating images and live visual effects that I identify as a key area for debate. Using the live cinema works of Peter Greenaway and Mike Figgis I investigate how 'live' this cinema really is or could ever hope to be. To further contextualize the possibilities for live visual effects I describe and analyze: Miss Donnithorne's Maggot: A performance / interactive film of Sir Peter Maxwell Davis's work of music theatre.
[1] On 17th June 2005, Peter Greenaway did a VJ performance during the NoTV CNCDNC visual art club evening in Amsterdam.
Full article is available for download as a pdf here.
Volume 19 Issue 3 of Leonardo Electronic Almanac (LEA) is published online as a free PDF but will also be rolled out as Amazon Print on Demand and will be available on iTunes, iPad, Kindle and other e-publishing outlets.