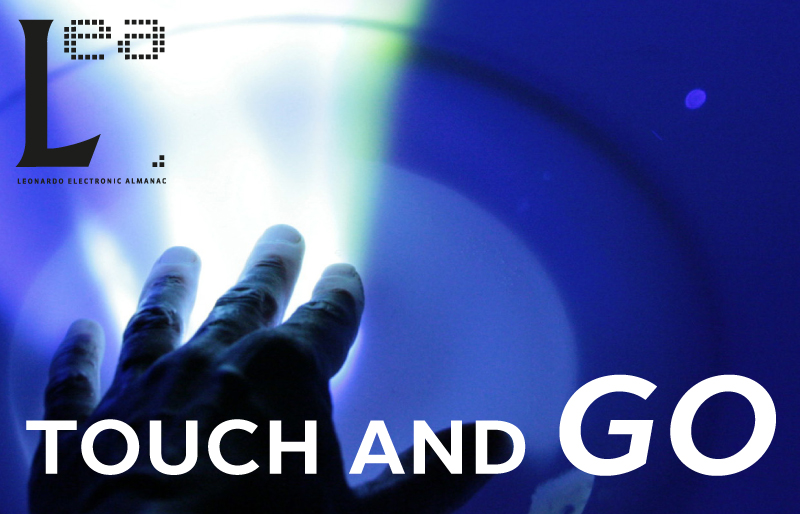 LEA Volume 18 Issue 3
Volume Editors: Lanfranco Aceti, Janis Jefferies, Irini Papadimitriou
Editors: Jonathan Munro and Özden Şahin
ISBN: 978-1-906897-18-5
ISSN: 1071-4391
Touch and Go: The Magic Touch of Contemporary Art
Introduction by Janis Jefferies
It is with some excitement that I write this preface to Watermans International Festival of Digital Art, 2012. It has been a monumental achievement by the curator Irini Papadimitriou to pull together 6 groundbreaking installations exploring interactivity, viewer participation, collaboration and the use or importance of new and emerging technologies in Media and Digital Art.
From an initial call in December 2010 over 500 submissions arrived in our inboxes in March 2011. It was
rather an overwhelming and daunting task to review, look and encounter a diverse range of submissions that were additionally asked to reflect on the London 2012 Olympic and Paralympic Games. Submissions came from all over the world, from Africa and Korea, Austria and Australia, China and the uK, Latvia and Canada and ranged from the spectacularly complicated to the imaginatively humorous. Of course each selector, me, onedotzero, London's leading digital media innovation organization, the curatorial team at Athens Video Art Festival and Irini herself, had particular favorites and attachments but the final grouping I believe does reflect a sense of the challenges and opportunities that such an open competition offers. It is though a significant move on behalf of the curator that each work is given the Watermans space for 6 weeks which enables people to take part in the cultural activities surrounding each installation, fulfilling, promoting and incorporating the Cultural Olympiad themes and values 'inspiration, participation and creativity.'
Full article is available for download as a pdf here.
Vol 18 Issue 3 of Leonardo Electronic Almanac (LEA) is published on line as a free PDF but will also be rolled out as Amazon Print on Demand and will be available on iTunes, iPad, Kindle and other e-publishing outlets.