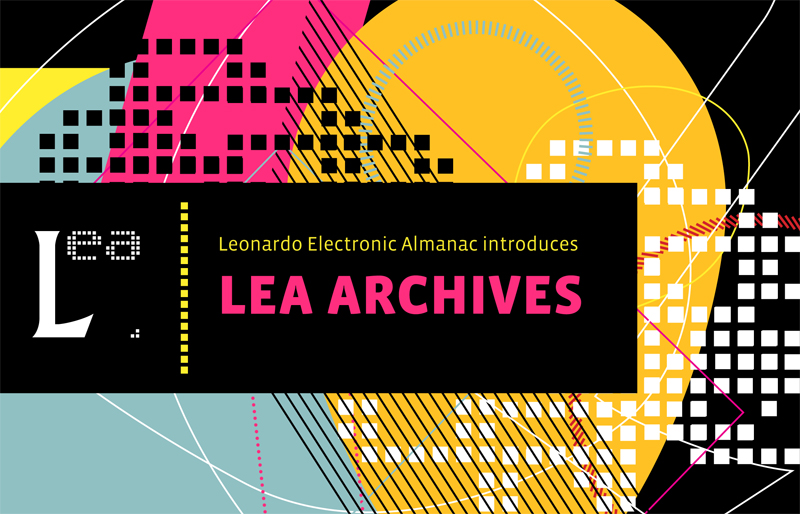 Leonardo Electronic Almanac Archive
September 1993- September 2009
ISSN #1071-4391
As we are re-issuing the archive of the Leonardo Electronic Almanac – several issues came to light. A very important aspect of the work we have been doing was the attempt to preserve the aesthetic development of the publication as it changed from .txt and .doc and then .html and .pdf. This process of transformation left both an exciting perspective on the development of the magazine and the ephemeral structure of html pages. After 2006 when LEA started to publish as html some of the old articles have been lost and some are no longer linked and in existence if they were hosted on third parties servers.
It took Ozden Sahin ages to re-collect all of the material and to be able to re-present it now in this archive. Although we will continue to re-publish the archival material as PDF, a more stable format, we have also decided to rekindle the old issues, conversations and arguments. The archive will provide material to a new generation of artists and academics working at the intersection of art, science and technology as well as offer the basis for a comparative analysis between historical and contemporary issues that will be presented in the new rekindled LEA publications.
To represent this content online – that surveyed a flooding of a server that was hosted in a basement level facility – it feels like a success, particularly if we consider how much digital content has been lost over the past twenty year.
As Editor in Chief of LEA I am happy to present the first issue of the magazine together with all others that will be available, once again, to the wider community.
Below is the table of contents, which for some of our readers will be a step back in the early days of what are now illustrious careers.
Lanfranco Aceti
LEA Editor in Chief
Volume 1, No. 1 September-93
Volume 1, No. 2 October-93
Volume 1, No. 3 November-93
Volume 1, No. 4 December-93
Volume 2, No. 1 January-94
Volume 2, No. 2 February-94
Volume 2, No. 3 March-94
Volume 2, No. 4 April-94
Volume 2, No. 5 May-94
Volume 2, No. 6 June-94
Volume 2, No. 7 July-94
Volume 2, No. 8 August-94
Volume 2, No. 9 September-94
Volume 2, No. 10 October-94
Volume 2, No. 11 November-94
Volume 2, No. 12 December-94
Volume 3, No. 1 January-95
Volume 3, No. 2 February-95
Volume 3, No. 3 March-95
Volume 3, No. 4 April-95
Volume 3, No. 5 May-95
Volume 3, No. 6 June-95
Volume 3, No. 7 July-95
Volume 3, No. 8 August-95
Volume 3, No. 9 September-95
Volume 3, No. 10 October-95
Volume 3, No. 11 November-95
Volume 3, No. 12 December-95
Volume 4, No. 1 January-96
Volume 4, No. 2 February-96
Volume 4, No. 3 March-96
Volume 4, No. 4 April-96
Volume 4, No. 5 May-96
Volume 4, No. 6 June-96
Volume 4, No. 7 July-96
Volume 4, No. 8 August-96
Volume 4, No. 9 September-96
Volume 4, No. 10 October-96
Volume 4, No. 11 November-96
Volume 4, No. 12 December-96
Volume 5, No. 1 January-97
Volume 5, No. 2 February-97
Volume 5, No. 3 March-97
Volume 5, No. 4 April-97
Volume 5, No. 5 May-97
Volume 5, No. 6 June-97
Volume 5, No. 7 July-97
Volume 5, No. 8 August-97
Volume 5, No. 9 September-97
Volume 5, No. 10 October-97
Volume 5, No. 11 November-97
Volume 5, No. 12 December-97
Volume 6, No. 1 January-98
Volume 6, No. 2 February-98
Volume 6, No. 3 March-98
Volume 6, No. 4 April-98
Volume 6, No. 5 May-98
Volume 6, No. 6 June-98
Volume 6, No. 7 July-98
Volume 6, No. 8-9 August-September-98
Volume 6, No. 10 October-98
Volume 6, No. 11 November-98
Volume 6, No. 12 December-98
Volume 7, No. 1 January-99
Volume 7, No. 2 February-99
Volume 7, No. 3 March-99
Volume 7, No. 4 April-99
Volume 7, No. 5 May-99
Volume 7, No. 6 June-99
Volume 7, No. 7 July-99
Volume 7, No. 8 August-99
Volume 7, No. 9 September-99
Volume 7, No. 10 October-99
Volume 7, No. 11 November-99
Volume 7, No. 12 December-99
Volume 8, No. 1 January-00
Volume 8, No. 2 February-00
Volume 8, No. 3 March-00
Volume 8, No. 4 April-00
Volume 8, No. 5 May-00
Volume 8, No. 6 June-00
Volume 8, No. 7-8 July-August-00
Volume 8, No. 9 September-00
Volume 8, No. 10 October-00
Volume 8, No. 11 November-00
Volume 8, No. 12 December-00
Volume 9, No. 1 January-01
Volume 9, No. 2 February-01
Volume 9, No. 3 March-01
Volume 9, No. 4 April-01
Volume 9, No. 5 May-01
Volume 9, No. 6 June-01
Volume 9, No. 7 July-01
Volume 9, No. 8 August-01
Volume 9, No. 9 September-01
Volume 9, No. 10 October-01
Volume 9, No. 11 November-01
Volume 9, No. 12 December-01
Volume 10, No. 1 January-02
Volume 10, No. 2 February-02
Volume 10, No. 3 March-02
Volume 10, No. 4 April-02
Volume 10, No. 5 May-02
Volume 10, No. 6 June-02
Volume 10, No. 7 July-02
Volume 10, No. 8 August-02
Volume 10, No. 9 September-02
Volume 10, No. 10 October-02
Volume 10, No. 11 November-02
Volume 10, No. 12 December-02
Volume 11, No. 1 January-03
Volume 11, No. 2 February-03
Volume 11, No. 3 March-03
Volume 11, No. 4 April-03
Volume 11, No. 5 May-03
Volume 11, No. 6 June-03
Volume 11, No. 7 July-03
Volume 11, No. 8 August-03
Volume 11, No. 9 September-03
Volume 11, No. 10 October-03
Volume 11, No. 11 November-03
Volume 11, No. 12 December-03
Volume 12, No. 1 January-04
Volume 12, No. 2 February-04
Volume 12, No. 3 March-04
Volume 12, No. 4 April-04
Volume 12, No. 5 May-04
Volume 12, No. 6 June-04
Volume 12, No. 7 July-04
Volume 12, No. 8 August-04
Volume 12, No. 9 September-04
Volume 12, No. 10 October-04
Volume 12, No. 11 November-04
Volume 12, No. 12 December-04
Volume 13, No. 1 January-05
Volume 13, No. 2 February-05
Volume 13, No. 3 March-05
Volume 13, No. 4 April-05
Volume 13, No. 5 May-05
Volume 13, No. 6-7 June-July-05
Volume 13, No. 8 August-05
Volume 13, No. 9 September-05
Volume 13, No. 10 October-05
Volume 13, No. 11 November-05
Volume 13, Author Index
Volume 14, No. 1 January-06
Volume 14, No. 2 February-06
Volume 14, No. 3-4 June-July-06
Volume 14, No. 5-6 August-September-06
Volume 14, No. 7-8 October-November-06
Volume 14, No. 9 December-06
Volume 15, No. 1-2 January-February-07
Volume 15, No. 3-4 March-April-07
Volume 15, No. 5-6 May-June-07
Volume 15, No. 7-8 July-August-07
Volume 15, No. 9-10 September-October-07
Volume 15, No. 11-12 November-December-07
Volume 16, No. 1 January-08
Volume 16, No. 2-3 February-March-08
Volume 16, No. 4-5 April-May-08
Volume 16, No. 6-7 June-July-08
Posted by: Ozden Sahin (LEA Co-editor and Curator)