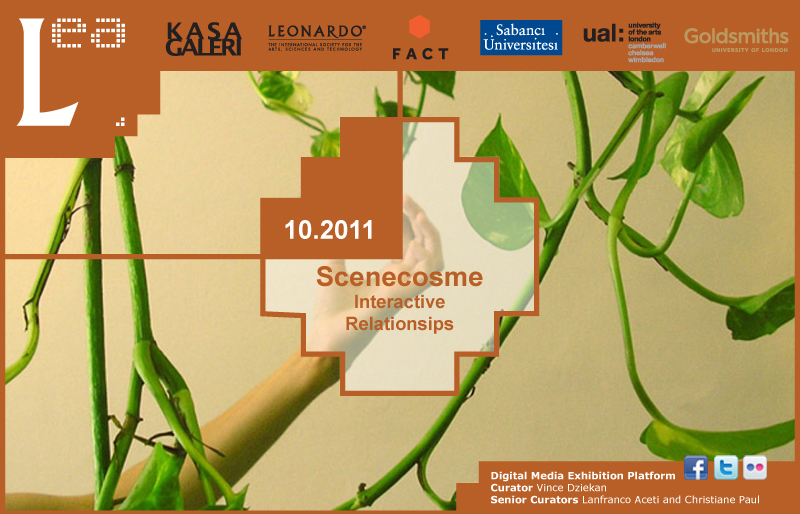 LEA Digital Media Exhibition Platform
'INTERACTIVE RELATIONSHIPS' BY SCENOCOSME
During October, we are pleased to present the work of French artists Gregory Lasserre and Anais met den Ancxt, who operate as Scenocosme.
The new media practice of Scenocosme spans interactive art, music and architecture in order to create evolutionary and highly participatory artworks. Drawing upon multiple forms of expression, they invite the spectator to be in the centre of musical or choreographic collective performances. Their work explores the invisible relationships that exist within our environment through precipitating interactive stagings where spectators are invited to exchange energy as part of highly sensory experiences.
Since 2004, Scenocosme have exhibited their interactive installation artworks at ZKM Karlsruhe Centre for Art and Media (Germany), Villa Romana of Firenze (Italy), Museum Art Gallery of Nova Scotia (Canada) and in numerous international biennals, festivals and events, including World Expo Shanghai (China), Lille3000, Fête des lumières de Lyon, and Nuit Blanche. Most recently, Scenocosme presented two pieces at ISEA2011 in Istanbul: 'Akousmaflore' (an installation of sensitive musical plants) and 'Light Contacts' (a sound and light installation involving collective interaction).
LEA International Curatoriate
Lanfranco Aceti & Christiane Paul (Senior Curators), Vince Dziekan (Digital Media Curator), Jeremy Hight (New Media Curator)
Follow LEA on:
Facebook
http://www.facebook.com/home.php?#!/pages/Leonardo-Electronic-Almanac/209156896252
Flickr
http://www.flickr.com/photos/lea_gallery/
Twitter
http://twitter.com/#!/LEA_twitts
YouTube
http://www.youtube.com/user/LEAbroadcast
Vimeo
http://www.vimeo.com/leagallery
For more information contact:
Ozden Sahin, ozden.sahin@leoalmanac.org
Leonardo is a registered trademark of the ISAST.