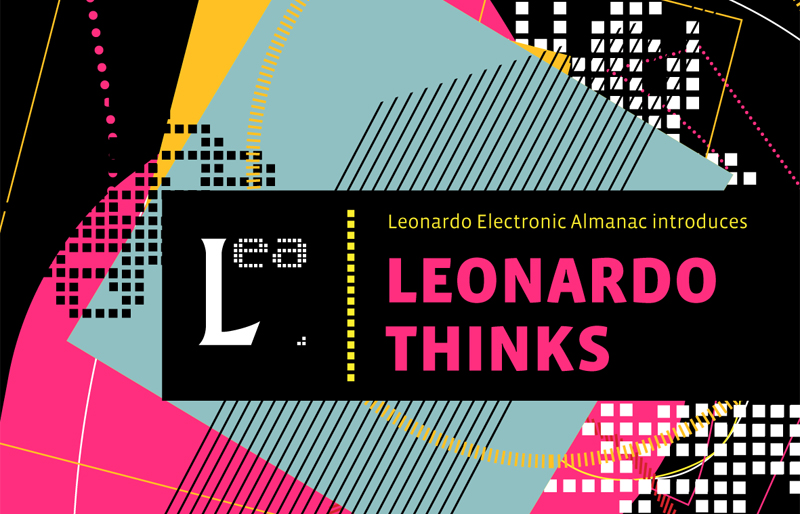 LEONARDO THINKS 1968 – 2011
Historical Opinion by Jack Ox
Jack Ox asks: How can living artists protect their rights to participate in a continuing intellectual dialogue through their artworks by participation in important and relevant exhibitions?
Intellectual versus Real Property Rights
How can living artists protect their rights to participate in a continuing intellectual dialogue through their artworks by participation in important and relevant exhibitions? After a work has been sold, often through a third party such as a gallery, what can an artist do to be assured of some kind of access to what is still their intellectual property, even though the artist no longer owns the actual physical artwork? There has already been discussion about the artist's right to share in future profits resulting from the rising status of an artwork. Some places, for example, California, have passed laws to facilitate this. However, as far as I know, little has been said about issues of artists' and owners' rights regarding the loan of artworks to future exhibitions.
In 1982 I finished a painting that was a visual translation (or "performance") of Claude Debussy's "Nuages," the first section of his Nocturnes. [1] I realized these 10 minutes of music in 104 ft of painting (standing 4 ft high), which I created in 27 pieces to be hung without space between them. I knew from the beginning that I would need to allow the piece to be sold in sections, although I reserved the right to decide at which points the painting would be split apart. At the time, my hope was to find three collectors who would make a consortium with the possibility of reuniting the painting some day in an exhibition. I have since had to give up this dream.
My second attempt toward having some control over the future of my work occurred when I began to show and sell the first sections of my 13-part visual performance of Anton Bruckner's Eighth Symphonyin C Minor. [2] This series of works occupied me for 10 years; each painting is 4 ft high and 10 to 16 ft wide. I had my attorney draw up a contract to be included in all sales agreements involving any painting from this series. I knew that it would be difficult to enforce such a contract, especially in the event of a resale, but I viewed it more as a filter for prospective collectors than as a protective document. I also assumed that anyone unwilling to cooperate would not buy the work.
This system worked quite well until I had an exhibition with a gallerist who had agreed to use the contract in the event of a sale, but simply did not keep her word. She sold the third theme from the first movement to a large law firm and told me to send the contract to the firm after the sale was completed. I explained the complete project concept in letters to the firm, outlining the benefits that they would gain at no cost when the paintings were shown in major European museums, complete with a beautiful catalogue giving full credit to the collectors. In addition, I pointed out that the exhibition and catalogue would contribute to the rising value of their purchase.
The initial response was not good. The firm's representative (with whom I corresponded during the following 2 years) was angry that I would try to add these "onerous" conditions after the sale-she replied they would not sign the contract nor cooperate with the exhibition. The end product of my 2 years of pleading was that I was to be allowed the painting for only half the time needed for the show to travel to be financially viable. Furthermore, I would be required, at my own expense, to provide another one of my works as a replacement. I was prepared to do the latter, but their time restrictions made the exhibition impossible.
A new solution became possible when the exhibition of the Symphony suffered a temporary cancellation due to the departure of the museum director who had planned the opening show. I suddenly had 6 more years to prepare for the exhibition, and so I decided to paint a second performance of the Third Theme using all of the drawings, images and plans of the first painting.
I am applying this new approach to my current work, a visual performance of Kurt Schwitters's Ursonate. I am planning to make two complete performances: the first will be shown and sold in segments in commercial galleries, the second will remain whole and in my possession to be shown in museums. The fact that music is the basis for my work makes this idea of two different performances particularly compelling. If a work of art is functioning on a musical level, then it should be reperformable.
I have found a good solution for me but not necessarily one that would work for other artists. This problem deserves some hard thought. It is also necessary to look at the other side of the issue: what should be the rights of ownership? It would not be very inviting to buy something over which one had no control. How can the two poles of artwork ownership be reconciled-that of the physical object and that of the ideas contained within that object?
Is it appropriate for collectors to have the absolute right of refusal in lending? Is there an implicit message in this policy that certain artists should not be in the marketplace? What constitutes "market"-is it limited to the place where objects are sold, or does it include the venue for "winning" grants or for being a university professor? What freedoms and rights does one bargain away for systems of support?
Unfortunately, most galleries do not have the luxury of showing work that cannot be sold. And in order for an artist to reach the museum level of exhibitions, he or she must first pass through the gallery system. Therefore, a compromise must be found to satisfy the needs of both private owners and artists.
Endnotes
[1] For a discussion and illustrations of this work, see Jack Ox with Peter Frank, "The Systematic Translation of Musical Compositions into Paintings," Leonardo 17, No. 3, 152-158 (1984).
[2] For a discussion and illustrations of this work, see Ox [1]. See also the front and back covers of Leonardo 24, No. 4 (1991).
Jack Ox is a Leonardo International Co-Editor, Research Assistant Professor in the College of Fine Arts at the University of New Mexico and an Artist in Residence and Research Associate at the ARTS Lab. Her website is http://www.jackox.net/.
ISSN No: 1071-4391
Author: Jack Ox, Leonardo International Co-Editor, E-mail: jackox@bway.net
Originally published in: Leonardo Vol. 26, No. 1 (1993), pp. 3-4
Print: ISSN 0024-094X, Online: ISSN 1530-9282, DOI: http://www.jstor.org/stable/1575771
Leonardo is a registered trademark of the ISAST.
Posted by:  Ebru Surek