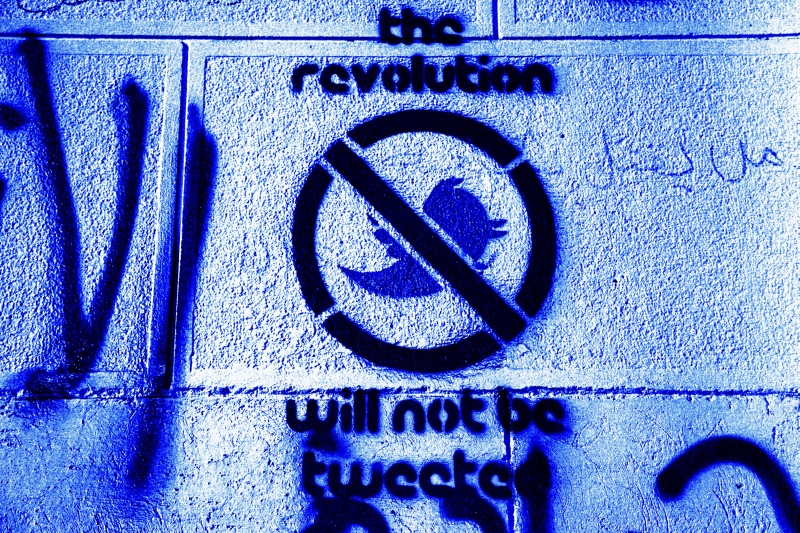 Art, in a State of Revolution: Egypt One Year after Tahrir, Leonardo Electronic Almanac
This issue investigates the relationship between activism, electronic and digital avant-garde, the role of the social media, cultural production and artistic experiments in the pre-Revolutionary and post Mubarak Egypt, one year after the so-called Arab Spring which upset Egyptian (and Arabic at large) politics and society.
The central role of social media in the 2011 Egyptian revolution (and in the uprisings of Tunisia, Bahrain, Libya, Syria and the Arab world at large) has been strongly emphasized by Western media, highlighting how Twitter, for instance, supported the occupation of Tahrir Square, the cohesion of the movement and the ideological solidarity of the Mediascape.
Additionally, the strategic role of electronic devices has been elevated to agent of the immediate success of Egyptian revolution. According to most social and cultural analysis about the now famous 18 days disseminated by global media, the circulation of digital media sanctioned the success of the demonstrators and the fall of Mubarak regime.
It is not surprising that on June 2012 the work of media artist Ahmed Bassiouny killed by police snipers in Tahrir Square was chosen to represent the country at Venice Biennial with a video installation that mixed the documentation of one of his performance pieces and the footage of the artist shot in Tahrir Square. It is probably the first time that a young artist not affiliated with the official Fine Arts sector has been granted such a prestigious solo presentation.
Nowadays press freedom in Egypt is suffering under military rules, with the country dropping 39 spots on the annual Press Freedom Index as compiled by Reporters Without Borders: while Egypt was ranked and 166th in 2011 (a drop, compared with 127th in 2010), its state today seems to have worsened in comparison with Mubarak Regime, the dead count is rapidly increasing, army and police have now more instruments of violent repression.
The Leonardo Electronic Almanac (LEA) is inviting proposals for an issue addressing these and related topics, especially those focusing on how non conventional artists and activists got involved in the events. How did artists, activists, independent writers and critics respond to radical transformations in Egypt? What is the role of new media before, during and after the 18 days of January and February 2011?
Senior Editors for this issue of LEA: Lanfranco Aceti and Digicult (with Lucrezia Cippitelli and Tarek Abou el Fetouh).
Please send proposals to: info@leoalmanac.org
a) Subject heading: Art-Revolution
b) Deadline for submission of full articles for consideration: November 15, 2012
c) 2 images at 72 dpi resolution no larger than 700pixels width for artists
d) Links to previous work, videos or personal sites
Our publication formats allow for full-color throughout and we encourage rich pictorial content where relevant and possible.  Note however that all material submitted must be copyright cleared (or due diligence must be evidenced).  For online publication a wide variety of media content may be considered (animation, mp3, flash, java, etc…)
• For scholarly papers please submit the final paper ready for peer review.  Your contribution will be reviewed by at least two members of the LEA board and revisions may be requested subject to review.
• For themed and pictorial essays please submit an abstract or outline for editorial consideration and further discussion.
• Please keep your news, announcements and hyperlinks brief and focused – include contact details and a link to an external site where relevant.  We reserve the right to sub-edit your submissions in order to comply with LEA policies and formats.  Where material is time-sensitive please include both embargo and expiry dates.
• In all cases specify special system considerations where these are necessary (platform, codecs, plug-ins, etc…)
For further information or image submission contact: Ozden.Sahin@leoalmanac.org
We look forward to hearing from you!